For my last weekend in Bali, I wanted to explore the infamous peninsula. I met up with my driver, Ketut, the same driver that showed me around the previous Saturday.
Bali Peninsula
Nusa Dua / Water Blow
We started the day by driving down to Nusa Dua / "Water Blow", which is a beautiful natural beach area with patches of grass around. It's surrounded by luxury resorts, however, local Balinese and Indonesian families still go there to relax over the weekend. It's reminiscent of some of Juan Les Pins, Cannes, and other well-off beach towns along the French Riviera, in a way.
[gallery ids="3293,3300,3284,3287" type="rectangular"]
Pandawa
After the luxury area, we went down to Pandawa beach, a long beach nestled under beautiful cliffs, which gives it kind of a hidden feel.
We didn't stay long, but the drive and the scenery were worth it. Seeing this makes me understand why people say that Bali is an ideal surfing spot —and I don't even surf!
[gallery ids="3288,3274,3301,3299" type="rectangular"]
Kopi Luwak
We stopped along the way to get a coffee (kopi), which gave me an opportunity to have my second ever cup of kopi luwak: the infamous Balinese coffee ranked as the best in the world.
It's a truly unique process: the Lusaka is this little animal, a cross between a ferret and a little fox. It picks and eats the best coffee cherries, generally arabica. Later on, it poops it out, and the villagers collect the beans, remove the envelope, clean them in boiling water, roast the beans, and ground them — it sounds kind of weird, but the nutrients that envelop the beans give them a special flavor that adds to the quality of the coffee as a whole.
By the time they serve the coffee, it is a delicate, strong, and pure aroma!
In addition to this delicious cup, the workers at the roasters also get you to taste different varieties of local teas and coffees, including —but not limited to— coconut coffee, ginseng coffee, white and red ginger tea, lemon tea, lemongrass tea, mangosteen tea (my favorite), and a bunch of others!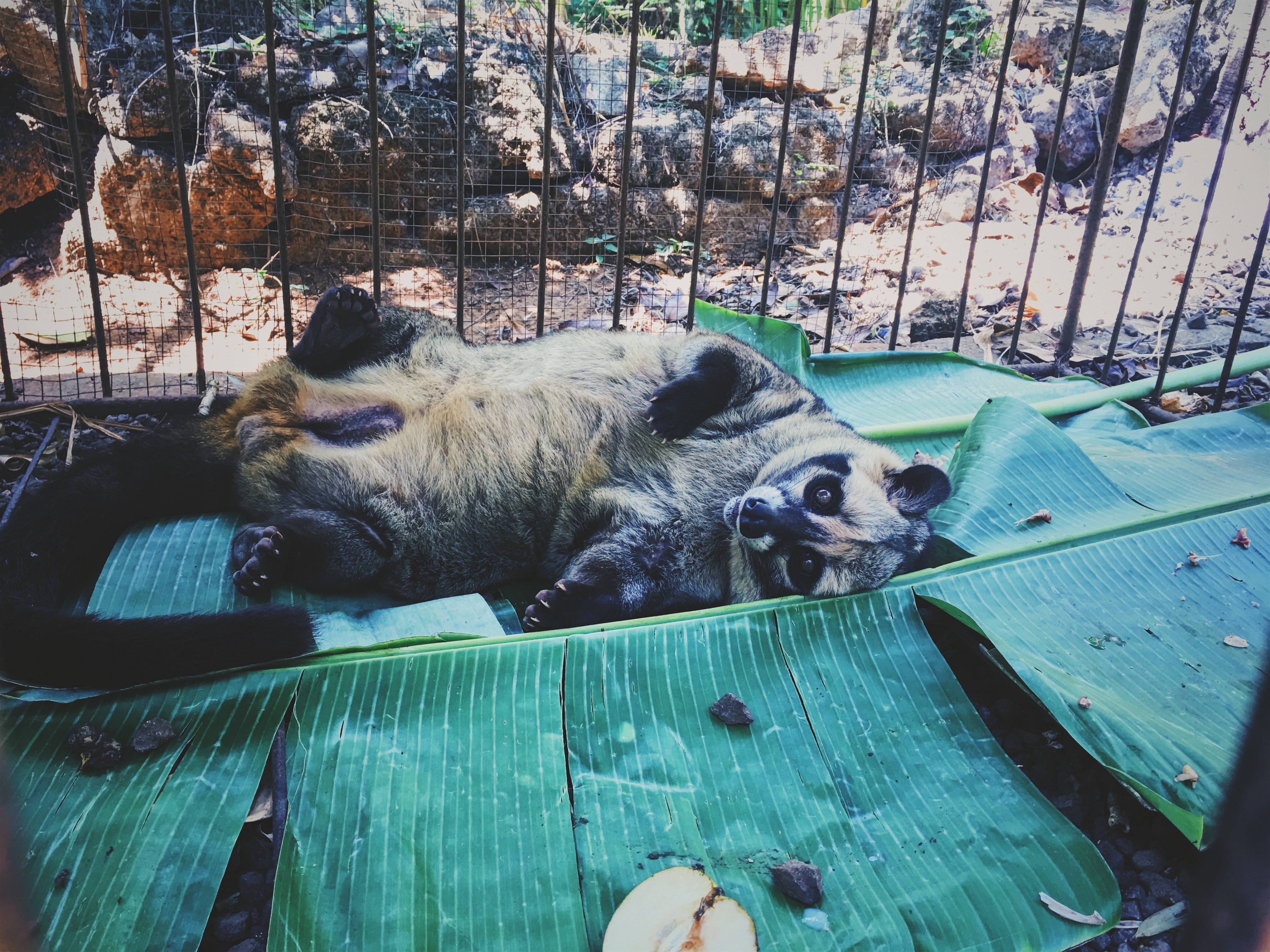 Uluwatu
After the coffee stop, we headed down to the Temple of Uluwatu — infamous for being a beautiful and large temple on top of a cliff, overlooking the Indian Ocean. This was absolutely breathtaking, and I couldn't quite help myself but shout wow! at each different side and areas of the temple!
[gallery ids="3291,3273,3294,3290,3297,3298,3283" type="rectangular"]
A family encounter
After the temple, we switched it up for a bit: my driver, Ketut, offered to go to his brother's, have lunch there, and spend the afternoon, before going to see a local football game with his family. I jumped on the occasion.
We drove about an hour north/east, to the small town of Sanur, and I got to meet his dad (65 years old), his brother (45 yo), his brother's wife, and a few of their friends, kids, nephews…
They offered the local Nasi Goreng —fried rice with egg, chicken, and spices— a few cups of coffee, and we even got to play with one of the local Balinese kites —flying at 50 meters above in the sky—, play some guitar, and grab some home-made snacks.
All in all, it was very kind of them to welcome me in their home and allow me to join them, experiencing a side of local Balinese life that no tour guide could have booked on my behalf.
[gallery ids="3279,3295,3282,3276,3285,3292,3275,3281,3289" type="rectangular"]
Bali United FC
Finally, the day ended at the football game. For the price of 35,000 Indonesian Rupiahs, or about 1.7€, we got through the main supporter entrance and saw Bali United FC, the best team in Indonesia, play and win 5-1 over the team of Lampongan (a city based on the main island of Indonesia).
Coming from Europe, the level feels like a National second or third division down from the main professional team back home, and it certainly was frustrating to see players hesitate to shoot towards the goal, on a 1-on-1 against the keeper. But it was very good fun, and I loved the feeling of respect and unity that I experienced.
Another thing to note was that prior to the start of the game, it started raining pretty hard, so we got drenched almost instantly as soon as we got to our stands in the stadium. That being said, with a nice 20+ degree weather, we were nowhere close to catching a cold and, if anything, this allowed us to cool down a bit.
[gallery ids="3277,3278,3286" type="rectangular"]