With rumours of SoundCloud's upcoming demise, online creators are about to feel a big loss. The platform is notorious for its rap scenes and artists, as well as a place of choice to host podcasts and DJ Mixes. Thankfully, they managed to secure a last-minute deal and more VC money (about $170M), which should give them another 12 months of runway to hopefully turn things around.
As someone who's played on the sideline of podcasting, beatmaking, and DJ-ing as a hobby over the past years — I've had the chance to test out a few platforms, and figured out some alternatives for online creatives. Read on!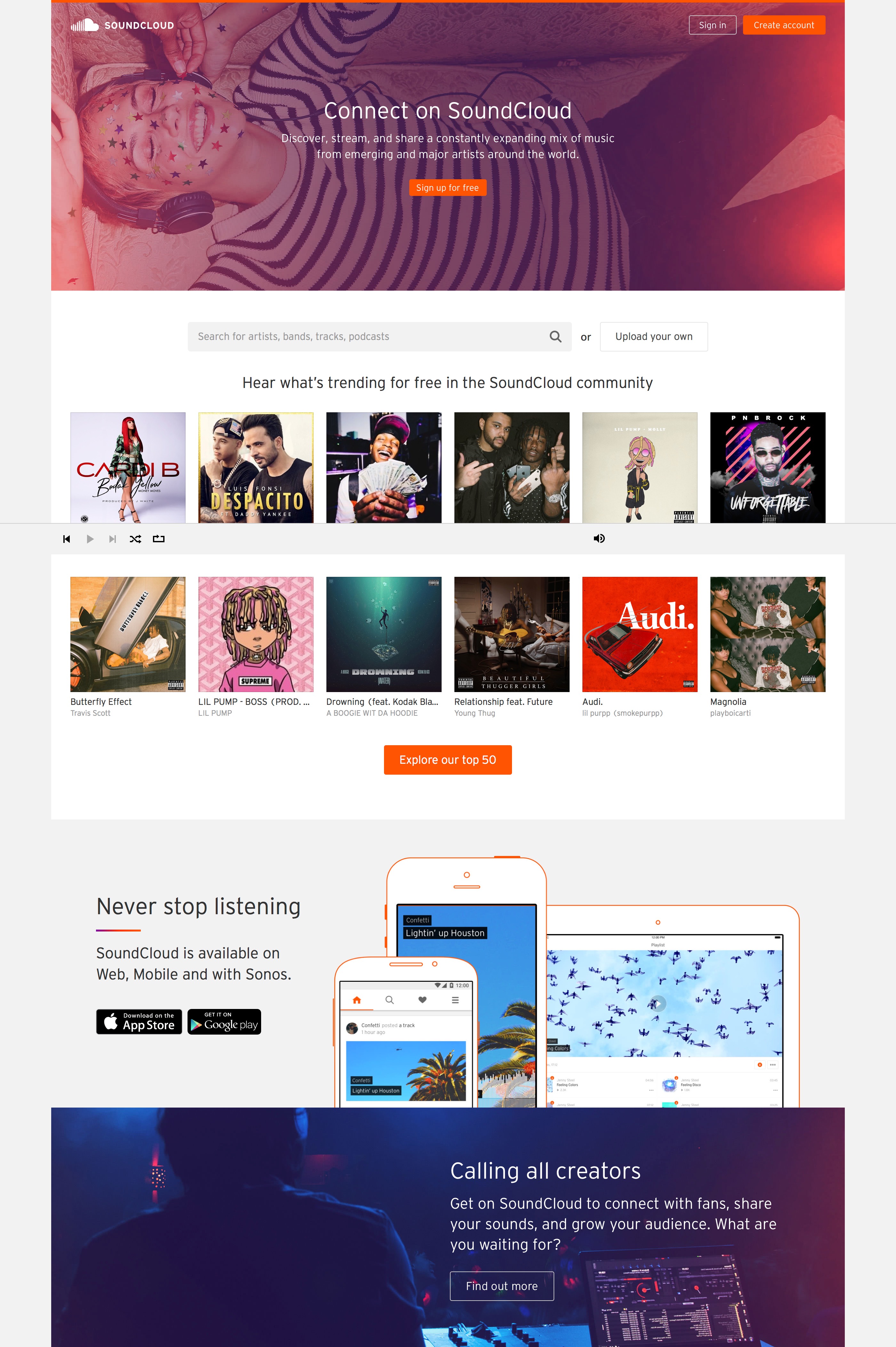 Podcasters
For podcasters, the appeal of SoundCloud is clear: you can get started for free, with free hosting, and you already have a built-in community to help you grow.
However, SoundCloud is not predominantly a Podcast Hosting platform, and anyone serious enough about Podcasting, or willing to spend a little money, should consider other alternatives.
My first piece of advices is simple: in 2017 you need to own your own content and the platform on which you broadcast it. You can no longer lock your episodes on one single platform and hope for the best, especially if you're not paying.
What I would suggest is that you create a dedicated blog or micro site where your followers can find all your episodes, in case whatever service or platforms shuts down. Hosting on a blog will give you an RSS feed to, which is how podcasting works anyways.
If you don't have a lot of technical knowledge, you can even add an account with Feedpress to make managing anything RSS-related in a much simpler way.
Now, when it comes to the nitty-gritty of podcast-hosting, your best alternative is Simplecast.fm. I've been using them for about two years now — and even interviewed the original founder (since then the company has been acquired but remains independent of outside funding, as far as I know).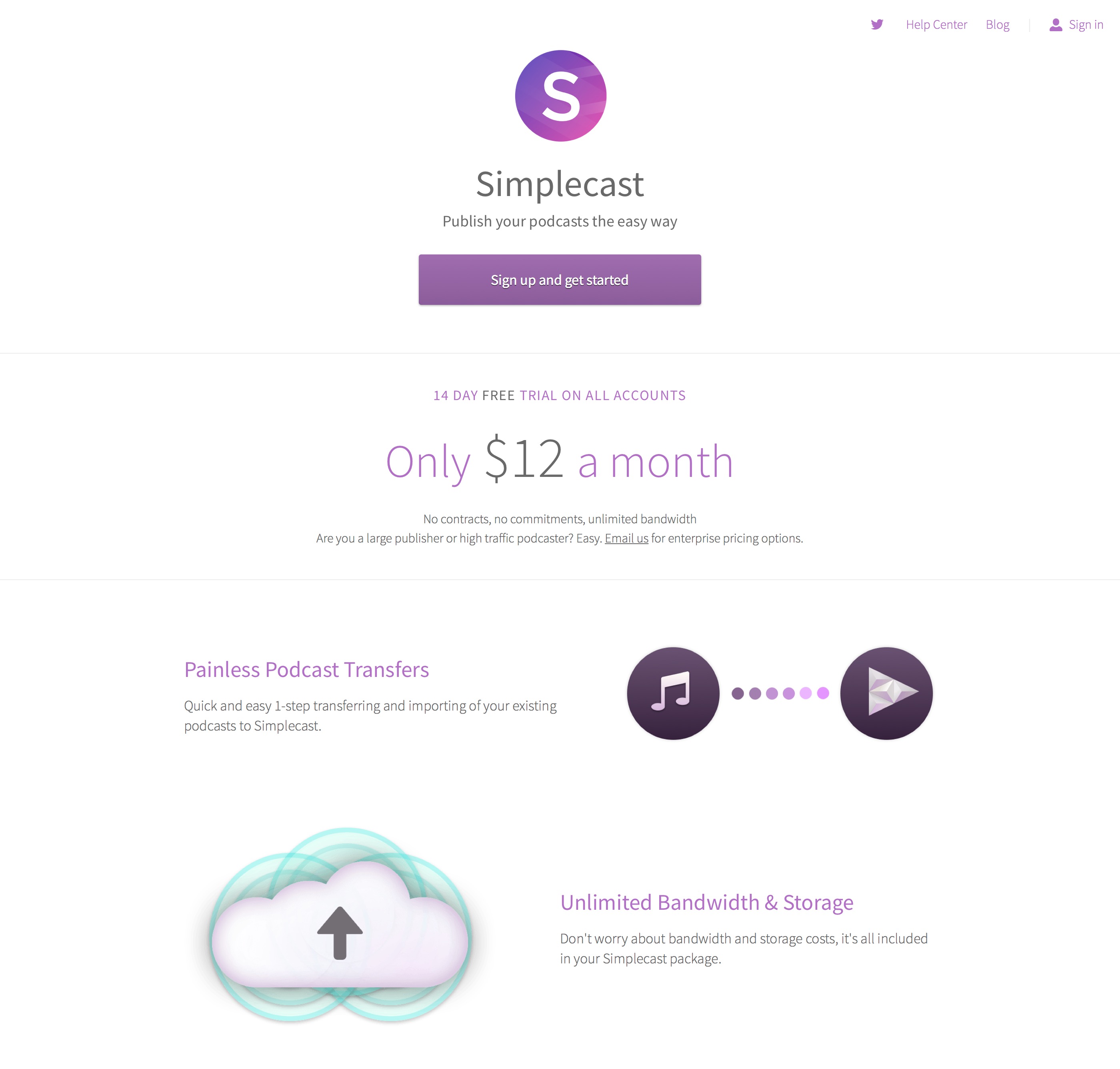 Simplecast is a fantastic platform that's easy to setup, manage and broadcast, available for about $100/year. It has all the features you might want: support for artwork, show notes (in Markdown format, HTML, and Rich or Plain Text.)
Once you've taken care of the initial setup, uploading episodes is as easy as picking the audio file from your computer, adding your title, description and artwork, and you're good to go.
What more, you can even tie it to your own domain, and even generate a dedicated micro-site to redirect web users and followers.
DJs
Online DJs and Radio Hosts are a different breed and require specific tools, however in this case there is already a solid platform available for everyone: Mixcloud.
Mixcloud came around the same time of SoundCloud but focuses on DJ sets and longer (it can also be used to host podcasts, but the core audience is DJs and online mixes.)
Mixcloud is available online via your Web Browser, and has different apps for your mobile devices or your Apple TV. They also have integrations in a couple of DJ mixing software so that you can easily upload to the platform.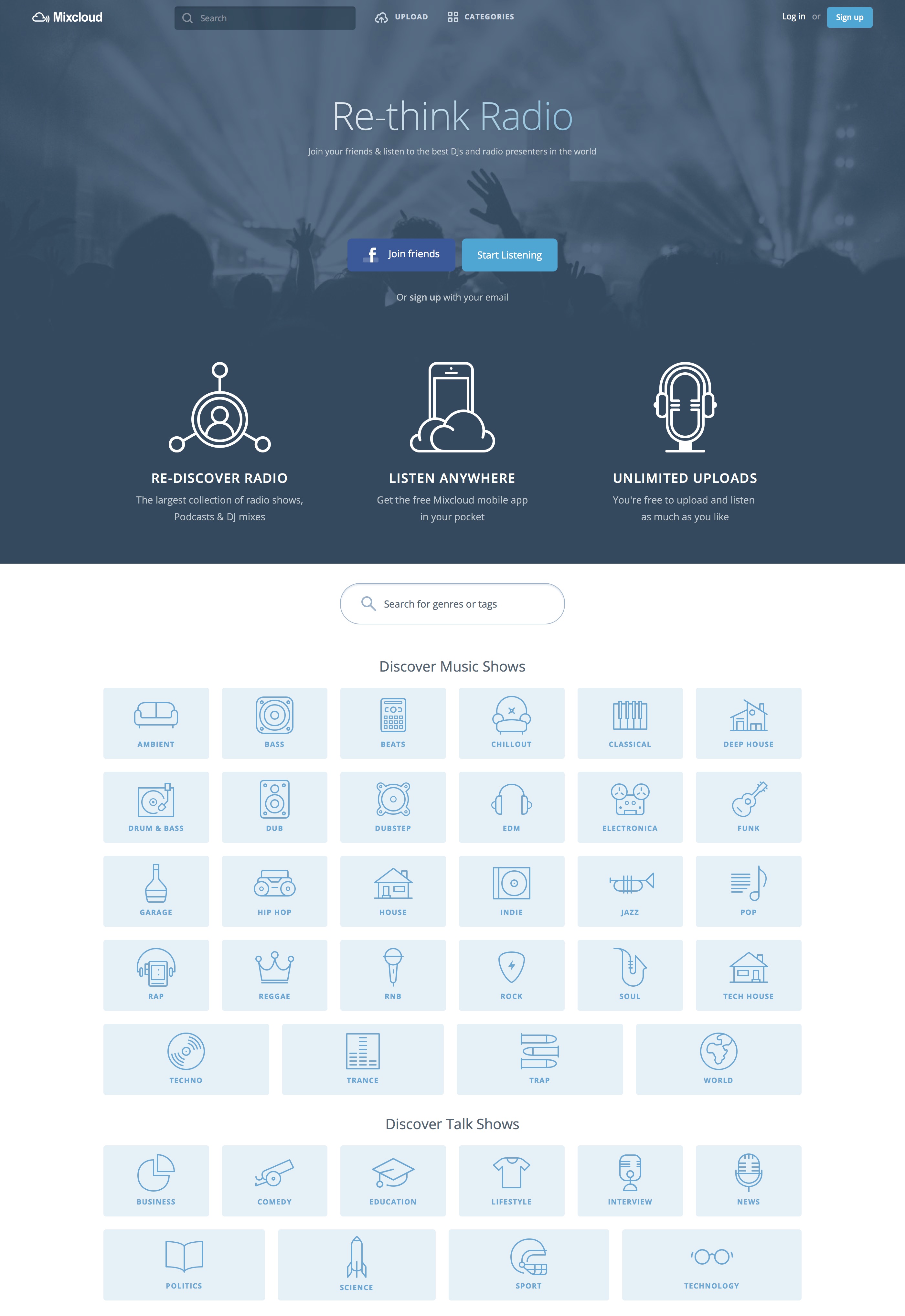 The company is also solid as the executive team has bootstrapped it (meaning there is no outside funding or investors to answer to.) There's no offline mode (you can thank the Major Music Labels for that), but aside from that it's a really good platform and a solid product. These days I find myself listening to it more and more as I work or require focus without changing songs or albums every 10 minutes.
I've personally met the CEO a few years ago and I truly believe in their mission to allow anyone to upload their music, from existing worldstar DJs down to bedroom DJs and hobbyists like myself, and give them an opportunity to share their work, and even participate in competition to get to the next level.
Musicians, Artists, Rappers, Beatmakers
Unfortunately, I'm not the best person in the know about hosting platforms if you're an artist/rapper.
Over the years, many platforms have come and gone, whether to host Mixtapes (), to allow artists to offer music downloads if you share your email address and follow them on SoundCloud and Spotify, or as a way to host remixes from the Hip-Hop scene. But none of them have ever had the traction and the cultural impact that SoundCloud has.
You have to keep in mind that Grammy Winner Chance The Rapper came up offering his mixtape so for free, on SoundCloud. To this day, his latest album/mixtape —the one he won a Grammy for— can be heard for free on the platform.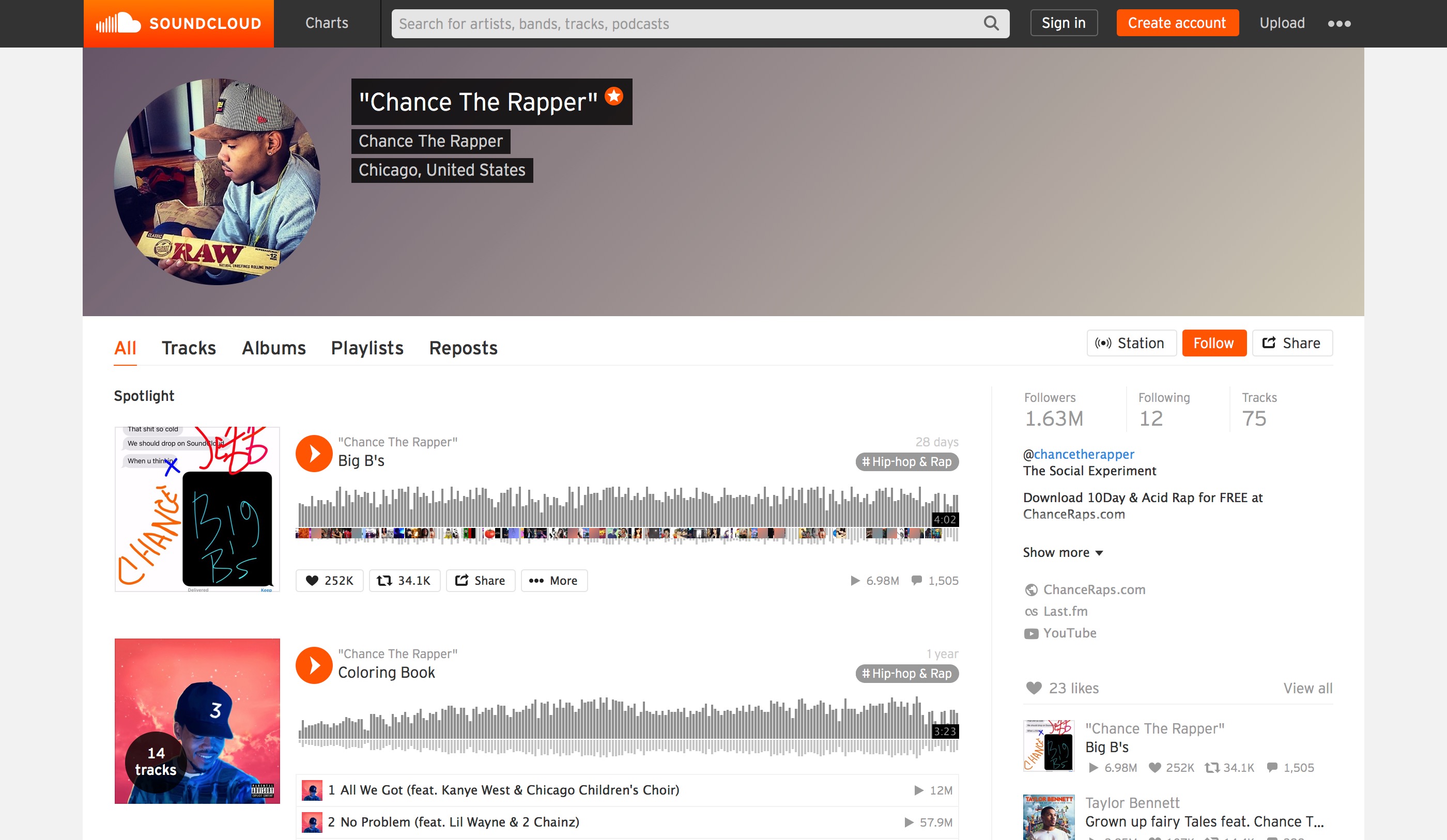 If you're an artist with a small label, or an independent artist, you can rely on Bandcamp to offer music downloads. It's a great company, with a philosophy and a sets of values that work in conjunction to the Indie Music scene.
Bandcamp is great if you want to sell/distribute your music, but from a listening experience, and from a community standpoint, it feels like it's a different product, targeting a different niche than SoundCloud.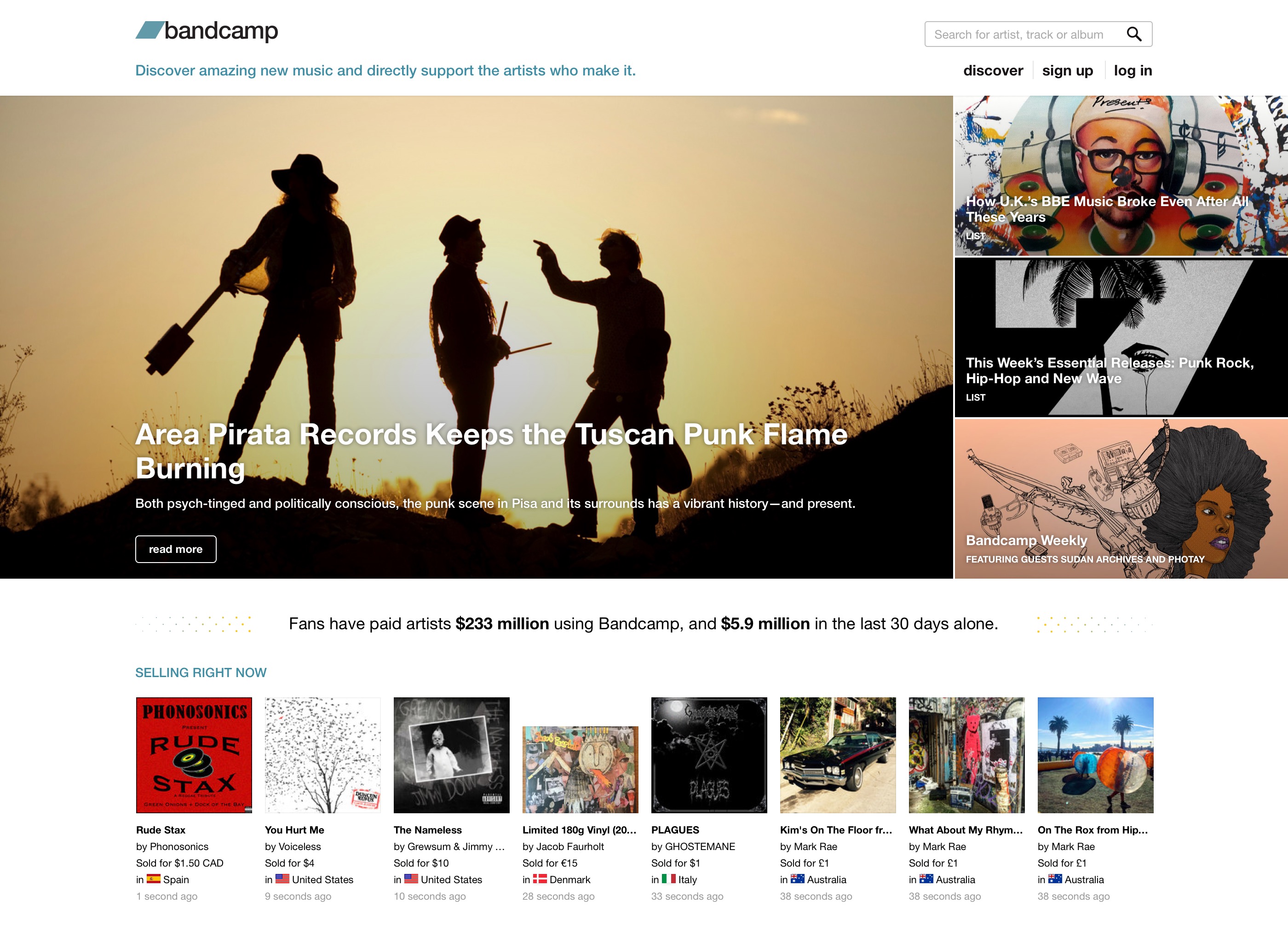 About my SoundCloud experience.
Before I wrap this up, I wanted to share a couple of thoughts about SoundCloud itself. Given that they've secured some additional investment and have a bit more runway, I want to be optimistic.
I've been a user of the platform for many years now, since around 2009-2010, first as a listener back when you could only find unknown producers, mashups and remixes. I continued listening regularly, starting to like and repost, up to now, with a community of almost 600 followers.
Since then I've been mixing things up, uploading my own beats, DJ sets, as a hobbyist, but also sharing my podcast, and engaging with the community. I loved the majority of the changes that the company brought over the years, the different redesigns, the modern look and feel of the current version of the app, and while there's always something that can be improved, I've been mostly satisfied about it.
My grudges with SoundCloud aren't with the platform itself, but with the major music labels who have always acted like a mafia, asking for money to be paid. This goes against the artists on so many levels, and against the current online climate of open-source, Creative Commons, and overall "open and free" mentality that make the web what it is today.
All in all — it's sad because SoundCloud had a lot of impact on our modern internet culture. It will be hard to get same level of discovery from another platform, and no matter what happens to them next year, they clearly have shaped our modern internet culture and are directly responsible for putting on a lot of different artists from Chance to Lorde, to producers like Lido, Cashmere Cat, Kygo, Mura Masa, and many others.
Don't blame Soundcloud for trying, they were essentially suffocated from the Majors! And I can personally feel that when some of my remixes or DJ sets get takedown, with my account being flagged and threatened to be taken down.  #BlameTheLabels
Conclusion
SoundCloud isn't dead yet, even if there are many concerns about how it'll survive. I think Casey Newton of The Verge absolutely nailed it: the biggest challenge comes a majority of users who refuse to pay for content and access, plain and simple.
These are the same users who make music playlists on Youtube (a video platform that is arguably the most popular music streaming service around). I feel strongly about this, because we have seen time and time again the death of platforms like these due to a lack of financial from the community.
As I'm writing this down in Vietnam, I asked my Airbnb host and his friends what service they used to listen to music. Keep in mind that the LTE service here is cheaper than in the west, and, in my experience, almost faster than Wi-Fi. When I asked them, they replied that they didn't see the point in paying for stuff, and they'd rather:
manually download tracks and transfer them to their mobile devices,
or use Youtube or SoundCloud.
This obviously made me a bit sad, because my hunch tells me this is the case for a lot of developing countries where access to the internet is cheap, but you can't or won't reward creators with a few bucks.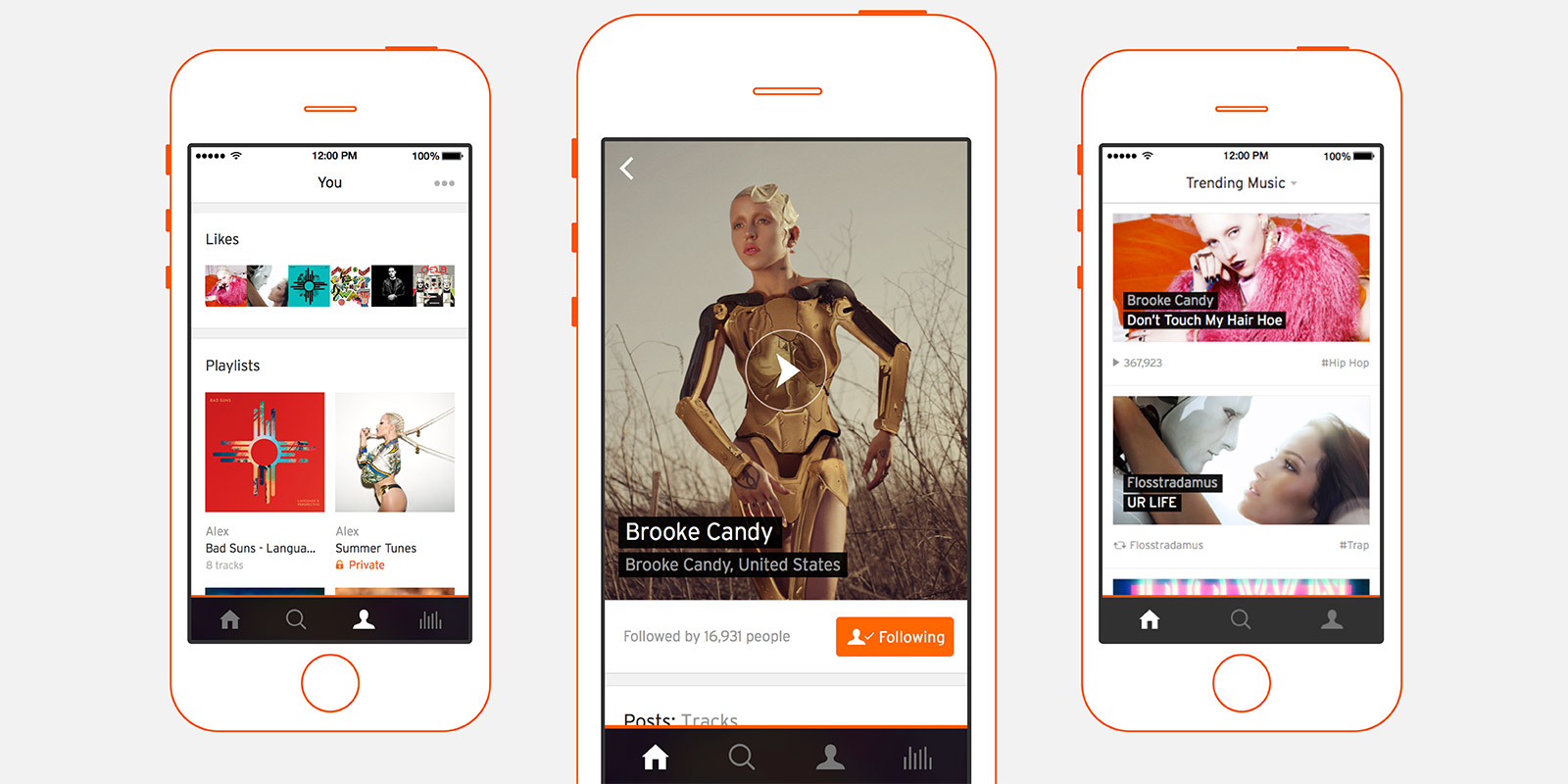 After securing the new funding, SoundCloud's co-founder and CEO, Alexander Ljung, was pushed out of the company and, as I understand it, has agreed to step down, it's not the same type of ruthless business and predator mentality that can be seen in pop-culture movies rendition of The Social Network or any movie about Steve Jobs an Apple.
I saw Alex Ljung speak on stage at LeWeb 2011, in Paris, and his vision for the future of not just music, but also sound and voice, was incredibly appealing to me. Listening to his keynote made me reconsider how I listen but also how I use sound in my day-to-day life. It's when I started using voice dictation or voice messages in messenging app regularly.
And now, it sounds like the new SoundCloud CEO, Kerry Trainor has his job cut out for him.
He was the former CEO of Vimeo between 2012 and 2016, and was responsible for the platform's change of positioning from yet-another-Youtube-competitor to a platform with focus on paid content, indie movies, documentaries, and a smart and simple VOD offering. It was a smart move, in retrospect, and one that paid off big time for them.
My hope(s) for SoundCloud is that through the guidance of the new CEO they can focus on what made the community special: a place where remixes, indie artists, and odd internet creators can thrive. But this won't happen without more revenue, which can only go so far in terms of being ad-supported. I really hope the customers start realizing this as the company has bought itself some more life for another year.