Currently listening to: Drake's freshly released "More Life" album/playlist/project.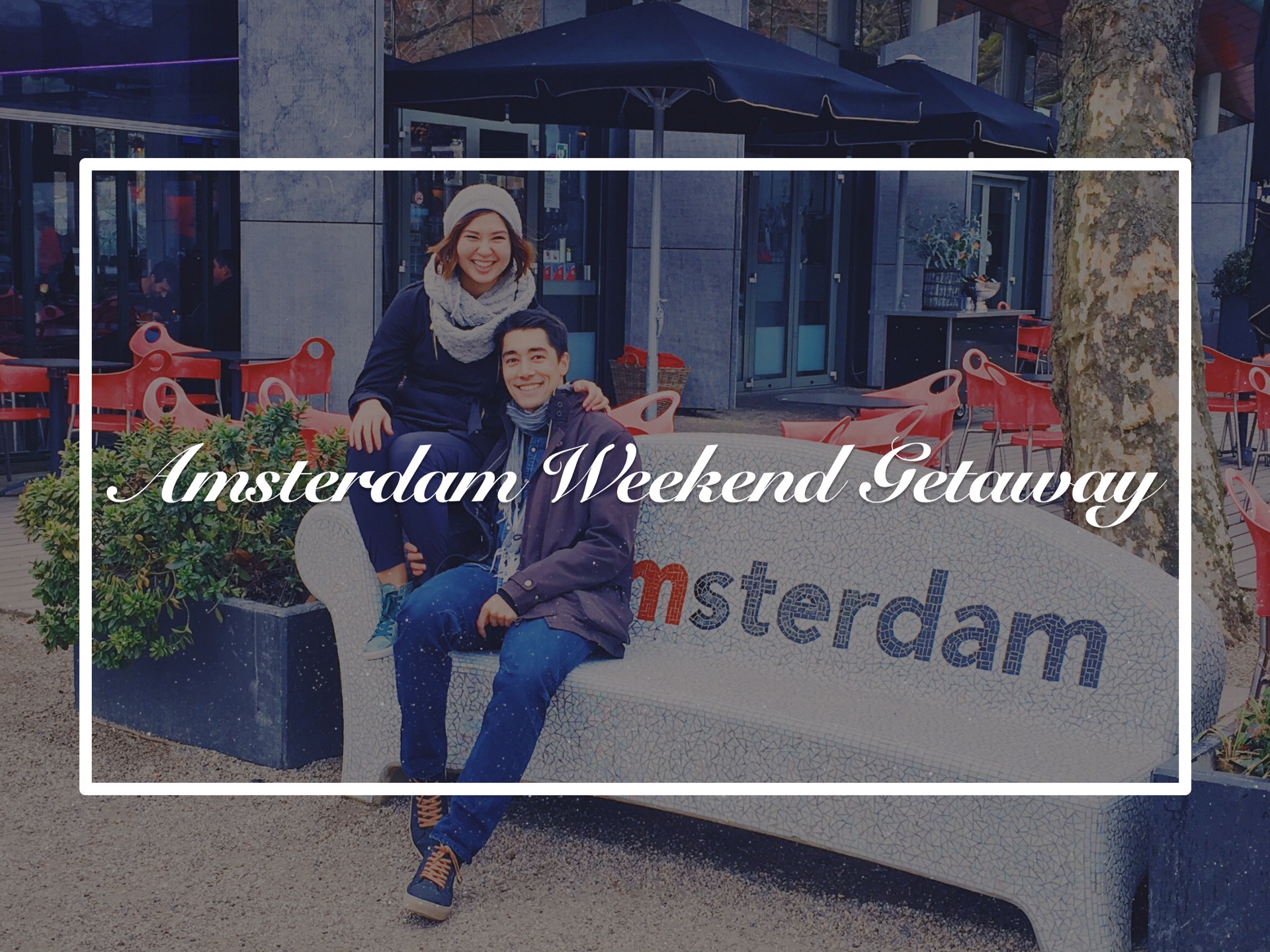 I'm waiting at the airport, on my way home after spending the weekend with S.
I always have a great time in this city, but the real reason behind the trip was to see her again, and be able to spend some quality time together. In all honesty, we were just looking for a good place to meet, in Europe, and The Netherlands happened to be a cheap and direct flight for both of us.
She had been in Amsterdam once before when she was a child, with her family. As for me, I spent a week in the Netherlands last year but only two short days in the city. The rest had been spent outside and visiting other places.
Looking back, we were been lucky enough to find some rays of sunshine during a weekend when the forecast promised fairly constant rain.
Day One: Traveling outside of time and space
The weekend started with the first flight of the day at 6:30am for me. I landed at Schipol airport at 8:30am and met with S a couple of minutes after that.
Seeing her, holding her, and kissing her felt unreal at first, after spending a month away from one another. But the good habits came back quickly and naturally: talking, holding hands, and giving one another a relaxed look full of excitement, love, desire, and happiness.
With such an early arrival, and small bags, we decided to make the most of the day and started walking around the city, delaying our hotel check-in for later that afternoon.
We started with a coffee in Bocca, a coffeehouse recommended by some of my local friends. We both needed that extra caffeine.
From there, we went to the flower market, on the canals, and then walked to Museumplein, the park and museums district. Around this green space stand 4 museums, amongst which the Van Gogh Museum, the Rijksmuseum, the Museum of Design & Modern Art and Moco, a mansion-turned-Museum where they were having two artists in display – more on that later.
Museumplein is also the area where stands one of the few "I am sterdam" signs – there are a few of those located at different landmarks across the city. Walking by the sign was also a great opportunity to take a couple of pictures together.
We continued our walk along the canals and charming old buildings, heading North. As we reached midday, we stopped at Fou Fow Ramen, a Sino-Japanese modern ramen bar. The hot broth and warm food were exactly what we needed to recharge our batteries and power through the rest of the day.
As an early afternoon food coma hit us, we decided to head to the hotel to drop our bags and take a quick nap, before heading back out later in the evening.
For this trip, we were staying in the very comfortable Qbic hotel. Yes, for those paying attention, it's the same hotel as the one I was in, during the London trip. The hotel is located just outside of the city, about 15mn away from the center on a quick tramway ride.
We got back to the city around 6pm and went searching for yet another cappuccino. Then came the time to introduce S to another Dutch specialty: homemade fries with satay/peanut-sauce.
We shared a small cone ahead of dinner and went on the lookout for a nightly canal ride under the rain. A ticket with Blue Boat Company gets you a 90 minute tour as well as snacks and a drink. With the city lights along the canals, needless to say that it was as scenic and romantic as one would have hoped.
After the tour, we looked for dinner and ended up at Lotti's, the restaurant inside of The Hoxton, one of Amsterdam's coolest hotels. She went for a mushroom soup while I lost my mind over a plate of delicious pumpkin raviolis. There was a great and hip atmosphere at Lotti's. Keeping in mind that it was St Patrick's day, the restaurant/bar was filled with a mix of tourists and locally-based hip creatives coming from the office. A great blend over a great DJ-set: I can only recommend this place for the food, drinks, and local ambiance.
Coming out of dinner, it was time to go and pay a visit to Amsterdam's infamous Red Lights District.
The funny thing about this is that photos are absolutely forbidden, which means that walking in these streets in the evening is something to experience, not something that one can picture, explain, or show to people unfamiliar with it. As such, S found herself amused and confused by the situation both at once. She wasn't sure what to expect, which is probably the best way to see the nightworkers in their element.
Once we finished our visit, we decided to head back to the hotel and call it an early night.
Day Two: More Life
We left the hotel around 11am in the morning after a good night of sleep. We got a quick breakfast at Caffè Belmondo, nearby, just before hoping on the tram.
The program for the day was to visit museums before lunch and improvise after that. We decided to start with the Van Gogh Museum, and followed it with the smaller Moco Museum.
The first one is fairly self explanatory: a huge building exhibiting the best work from one of the most famous and influential artists of the 19th century, on about 4 or 5 different levels.
Moco, on the other hand, had two temporary exhibitions, one on the surreal Salvador Dali, and the other one on Banksy. As fans of streetart, we just had to get our tickets, if only for the Banksy one.
After educating ourselves a bit more about the Arts, we went searching for food. S was in the mood for a burger so we naturally thought about hitting the Hard Rock Café nearby. However, with a 45mn wait at 2:30pm, we decided to go elsewhere. That's when we stumbled upon Palladium.
Palladium is predominantly a bar that serves food. However:
They also serve one of the best cappuccinos in town.
The food is actually amazing.
We were happily surprised by the atmosphere, the food, and our giant Gin and Tonics. S had a refreshing cucumber G&T, while I chose a cinnamon & orange one.
Leaving the restaurant, I wanted to show S one of my favorite places in town, that I knew she'd like, The American Book Center: a four-stories-high building with magazines, stationary, and books on books on books, all in English, and offering a variety of subjects.
One can find anything from Arts, fashion and design books, travel guides, comics or poetry collections. They also have a concept I love: "Blind Dates": books all wrapped up in paper, without a title or author, just a 10 words description to get you to buy and be surprised by the reading material.
Once we were down browsing, it was time for more alcohol, so we naturally went to BeerTemple, an American Beer Bar sporting close to 20 beers in tap and about three times the same amount of bottles of imported brews from all around the world. As both fans of India Pale Ales, we were delighted to discover new drinks to try.
From BeerTemple, I took the initiative to take_S_ to another lesser-known landmark of the city: the public library. Located on the edge of the river, just after the main train station, the building has 7 floors with a restaurant and a terrace overlooking the city, a great place to just take a breather away from the packed center of the Dutch capital.
Unfortunately the terrace is closed until the beginning of April and we couldn't get out. However, the final stop of the day would take us to an even more scenic panoramic view.
Right next to the Library is the Doubletree Hilton hotel, and more importantly, its Sky Lounge rooftop bar. We arrived around 7:30pm to find the place packed and it took us a couple of minutes to find a table.
Once we got there, S ordered a champagne-based cocktail called Seduction, while I chose something vermouth-based. The drinks came alongside chili-flavored popcorn, a very interesting mix. We decided to also grab a bite while enjoying this very romantic and intimate moment. We shared a plate of cheese and a pumpkin risotto, before finishing with a sweet treat consisting of a Stracciatella, Hazelnut and Cookies'n'Cream ice cream from a local Dutch store.
We took an Uber out of sheer laziness to walk and then wait for yet another tramway, and called it a night.
Day Three: Flying back to reality
After a restful night of sleep, we woke up in the room, had a shower, packed, and decided to get breakfast at the hotel before leaving. The convenience of having a delicious breakfast at the hotel, a 10mn train ride from the airport, was too good to pass on.
We arrived at the airport just before 10am and I left S at the international terminal. Her flight was a couple of hours before mine, but considering her long-er trip, it was worth me coming with her, leaving her at the check-in gate, before finding my own terminal and security stand.
Once at the airport, I had my third and fourth coffees of the day, a quick lunch, and some time by my boarding gate, to relax, catch up on some articles saved in my Instapaper, read some comics, and send a few messages with my friends. I also messaged S and we exchanged some of the pictures we took over the weekend.
---
Realizing our growing feelings and affection towards one another, taking our tickets to meet in Amsterdam was the best decision we could have possibly taken. All weekend long, being with her has been an intimate and timeless experience, where it felt like we were the only two humans around at times.
I mentioned previously that S travels a lot for work, and should continue to be in this situation until at least later this fall. However, with my upcoming trip starting in April, this may turn out making seeing each other again even easier.
At this point in time, there are talks of meeting again on other continents in another couple of weeks, for more adventures together, and the only obstacle to those upcoming adventures would be related to her superiors preventing her to have this time off. Not a big deal, in and out of itself.
I don't know why my future is made of, but right now, all I know is that she's in it.
[gallery ids="2446,2432,2431,2433,2436,2423,2428,2429,2434,2435,2447,2557,2417,2441,2448,2438,2427,2442,2440,2445,2421,2420,2419,2422,2418,2413,2415,2430,2414,2416,2425,2424,2443,2426,2444,2437" type="rectangular"]