Back in 2015, I wrote (in French) about how excited I was about Trevor Noah's Daily Show. I had seen enough episodes of the iconic Jon Steward show to know that it was something I liked, but not enough to be an unconditional fan angered at the new host. And I noticed that some of the people I followed were getting involved.
Fast-forward to 2016, where after a couple of months after the hype, critics have gone against Noah for being too soft, too different, too stale, compared to the previous version of the show. Keeping in mind that it took Jon Steward 18 years to improve his formula, I found the criticism of Noah to be a bit harsh. 
That being said, I was delighted to hear some buzz today about a recent episode from yesterday.
Or as The Atlantic puts it:
The Daily Show host was measured, respectful, and challenging in his 26-minute conversation with TheBlaze pundit Tomi Lahren.
I personally had no idea of knowing who she was.
Tomi Lahren, the 24-year-old host of Tomi on the conservative cable network TheBlaze, feels like a pundit created by a computer algorithm, someone who primarily exists to say something provocative enough to jump to the top of a Facebook feed.

She's called the Black Lives Matter movement "the new KKK," partly blamed the 2015 Chattanooga shootings on President Obama's "Muslim sensitivity," and declared Colin Kaepernick a "whiny, indulgent, attention-seeking cry-baby."

At a time when such charged political rhetoric feels increasingly like the norm, Lahren stands at one end of a widening gulf—which made her appearance on The Daily Show with Trevor Noah Wednesday night all the more fascinating.
Sounds delightful doesn't she?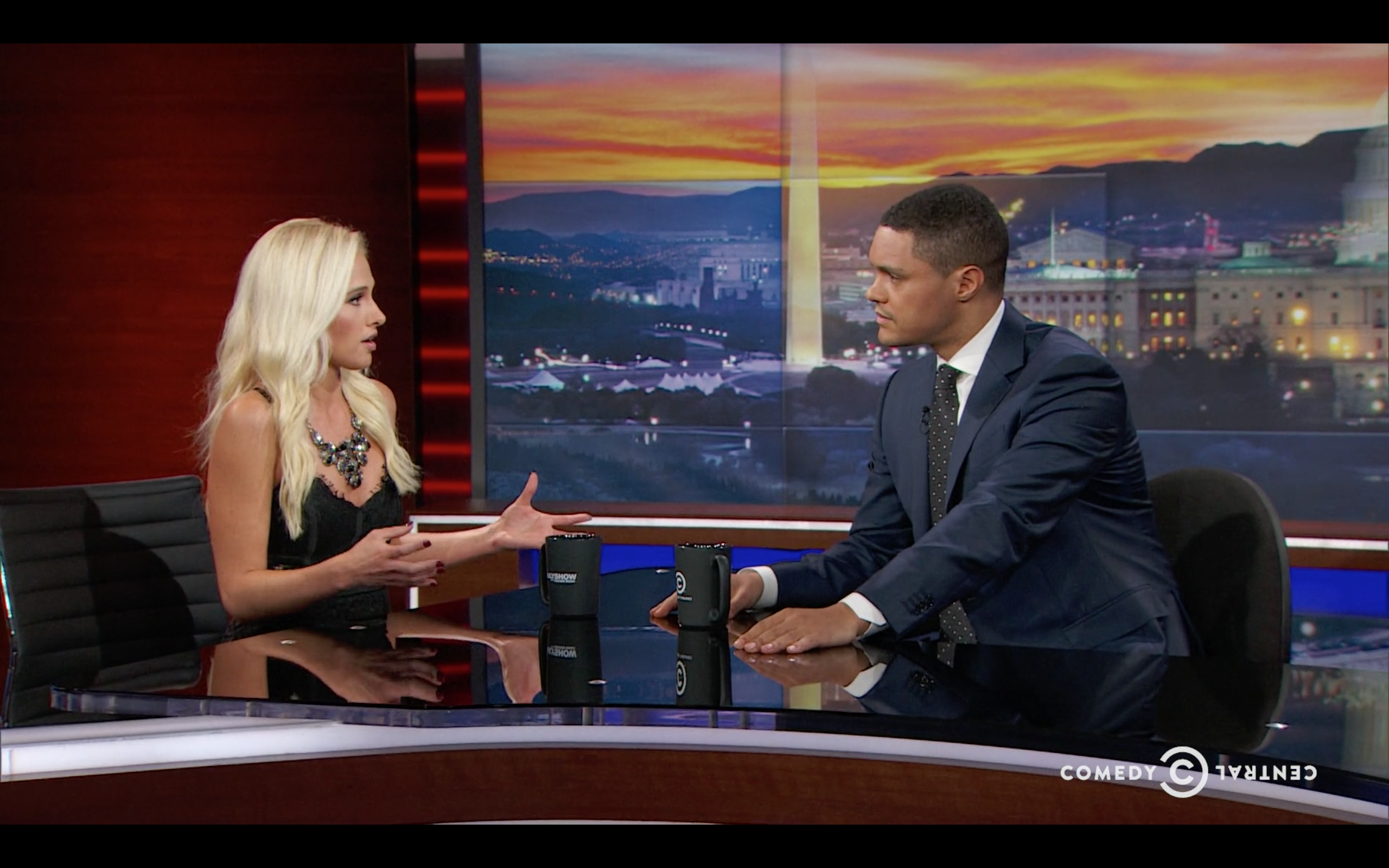 I personally thought Noah did a great job at interviewing Tomi Lahren, as he took it with a calm and opened mind, trying to understand his interviewee's perspective and calmly calling hypocrisy and bullshit without going into caricature.
I think this is important: he's trying to rebute the fake news and false facts one by one.
You can see the look on his face when he really wants to interrupt Lahren, but stops himself out of respect for his job and his guest. You gotta respect that!
Diplomatic, but challenging, this is what I'll be looking forward to watching from Noah!
I'll leave the final thoughts from the piece over on The Atlantic:
If Noah was looking for a specific episode that would help him break out in his crowded field, he may have finally found it.
[≠]